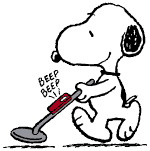 Here's a bit of metal detecting humor to start off your week.  I'm sure some of you can relate–Happy Hunting!
The ABC's of Metal Detecting:
A-is for Annoying, as in those folks who come up to you on the beach and say "If you find a gold ring, I lost it", followed by smug laughter. Oh gosh–we've never heard that one before–Comedy Central is on our speed dial, just for you.