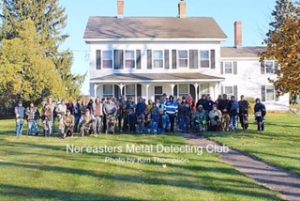 When you go on an organized hunt, whether it's a day hunt hosted by your local metal detecting club, or an expensive, hyped up, out of state weekend detecting bonanza, you never know what you're going to get.  It's the chance you take in this hobby.  Sometimes a site you think will produce amazing relics and finds turns out to be a dud, while the site you think will be "meh", blows you away with the finds that are recovered.
I've learned to view these organized hunts as more of a social gathering/new detecting opportunity, and attend them without expectations. Such was the case when I attended the recent hunt hosted by the Nor'easters Metal Detecting Club out of Stamford, CT.
The hunt was at the Norton Brothers Fruit Farm in Cheshire, CT.  It's an old farm that has been around since the 1750's, and is still, seven generations later, run by the same family.  At one time the farm was about 130 acres, but a portion of it was sold in the mid 1900's, leaving the 35 acres that we were lucky enough to be allowed to hunt.
The turnout was great, I'd say at least 50 or so, and the weather, although a bit chilly in the a.m., with all the sunshine, you could tell it was going to be a great day.
A few minutes into the hunt, coins and relics were already being found.  Most people started out detecting the front yard of the house as it was thought there was a lot of potential in that area, and their finds seemed to be backing that up.
Because I use an E-trac, I didn't immediately jump into the fray.  I love my E-trac, but I cannot get within 20 feet of a CTX3030 without it going haywire from interference.  Hitting noise cancel is useless, and the folks with the CTX's are oblivious to the fact that they are driving my machine bonkers as they hunt all around me.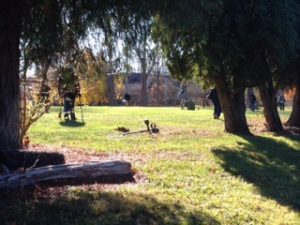 Knowing this, and seeing how many people were using CTX's, I decided to hang back a little and wait for the crowd to thin before attempting the hot spot. In the meantime, I pacified myself, trying to convince myself they were cleaning out the junk for me, and I would have less garbage to dig.
I hunted around the edges, (keeping away from the evil CTX's), and ran into Riley–the coolest kid ever.  I had met him at the Catskill hunt, and I'm not sure how old he is, I want to say 10 or so, but since my own son is now grown, I'm not so good at judging those things anymore.
Riley is so into metal detecting, so polite, and when your speaking with him, you think you're talking to an adult.  He knows machines, and talks detecting like its second nature.  I enjoy his enthusiasm, and know that with kids like that around, the future of this hobby is in good hands.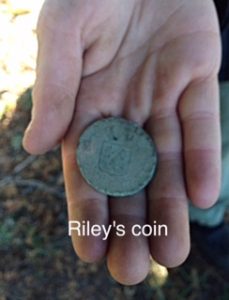 He showed me an old French coin he had just found, probably from the 1700's, he wasn't sure, but I had never seen one before, so I took his word on it. I never did find out what type of coin it was though.
I decided to hunt down by the road and got a nice clear high tone on my machine.  I eagerly turned over the plug and saw a large circular greenish toned disc.  I thought it was a copper, but I've been fooled by my poor eyesight and large cloak buttons before.  I yelled over to Riley, "I got one Riley–I got one!", and he came running to have a look.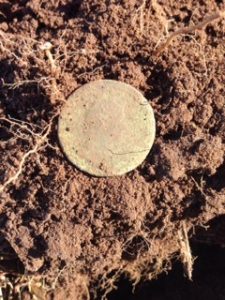 Neither one of us was really sure what it was. It didn't have much detail, and I thought maybe a CT or a King George, but I didn't want to rub the dirt off it, so I popped it in my pouch to look at when I had my glasses.
A few minutes later, an old friend was passing by, so I asked him what the coin was.  He informed me it was a King George, but not before chastising me for not bringing my "readers" with me to the hunt.  C'mom–really??  Like with all the stuff I tote around, I'm supposed to bring glasses with me too?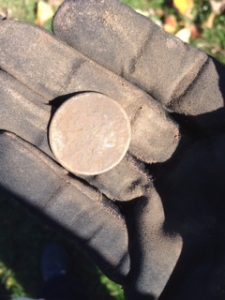 Anyway, I decided to stay in that area for a bit, and about 30 feet away from where I found the first coin I got another sweet signal, and at only about 4 inches down pulled out what appeared to be a large cent, but I had to ask again to be sure, and yup it was an 1803.
I then gridded the area hoping there might be more, but only found some miscellaneous relicy stuff, and a very sharp, but very cool Batman knife, which I deposited in the trunk of my car to avoid a possible first aid kit incident.
That was it for my exciting finds, but I was happy with my coins, and I didn't care if I found anything else.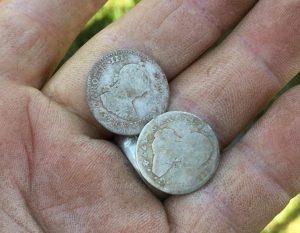 The highlight of the day, was at the end of the day, when one of the guys (Rich W.) came into the front yard where people had been hunting all day and pulled out a 2 reale coin spill, and then, a few yards away, a copper–just like that. Way to go Rich!  That is definitely some great advertising for the XP Deus, but I can't say it was just the machine, because I've know Rich for a while, and besides his awesome personality, he has mad detecting skills.
So, a day that started with no expectations, ended with a lot of great finds, especially coins. There was Riley's French coin; Rich's reales, shield nickel, Indian and CT Copper; Matt D's counterfeit cut 8 reale, Hibernia, 2 KG's, large cent, and 1/2 cent; Kevin D's Fugio & token; my own KG and large cent. Those were only the coins that I saw, but I heard that a bunch of silver, and more coppers were found.  There were also some cool relics found, including flat buttons, suspender parts, buckles, and a nice crotal bell.
I wrapped up the day at the farm store they had on the premises.  I went a little overboard and came home with maple syrup, cider donuts, apple fritters, maple flavored popcorn, and a lot of apples, of course.
It was a great day, and a successful hunt that I think will be remembered for a long time. So a big thank you is going out here to Jesse, the Nor'easters and the Norton family for making it possible.  ♥♥♥ THANK YOU! ♥♥♥
And if you live in CT, or within driving distance to the Farm, it will be worth your while stop by.  I highly recommend the cider donuts, they are delicious, and were gone before bedtime.
You can get directions and check out the farms website at: www.nortonbrothersfruitfarm.com.
More pics below–Happy Hunting!