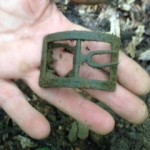 I got out with one of my "cellar hole junkie" pals, Dave Wise this past weekend to hunt a few cellar holes.
The weather report called for warmth and sun, but by the looks of things, drizzle was on the days menu.  I didn't mind though, because:
1.)  It really had been a while since I've been able to log some decent time in the field.
2.)  I'm obsessed.
Once we arrived at the site, we lucked out, however, because although the ground was wet and got soaked up to our knees, the rain backed off and we hunted under a cloudy but dry sky.
These particular cellar hole sites were not far from the road, and we quickly passed the first one and continued another hundred yards or so to the second.  The second cellar hole seemed a bit older, and less overgrown than the first.  We had good swinging room, so we began our search there.
We were hoping to have some good finds to tell Todd Hiltz about, as he was working, and was supposed to meet up with us around noon (depending on what the site was producing).
After some time, I hit upon a spoon bowl, which was quite damaged, then moved on to find a small button.
I met up with Dave, and he had found a piece of a shoe buckle and a button.  The slim pickings at the site led us to believe it had been hit before, although probably not recently as there weren't the usual remnants of iron laying around, or hanging from the trees.
We decided to give it another hour or so before calling Todd, 'cause–hey, you never know.
Shortly thereafter, I hit upon a low tone, reading 11/29 on my E-trac.  Kind of flat button sounding, but not the typical display for a flat button.  When I dug it, it looked  like a flat button, but with a greenish coin patina.  Since I can't see very well close up, I popped it in my pouch for Dave to have a look at.
When I caught up with Dave and showed it to him, he thought it was a coin, because it was obvious to him there was no remnant of a shank.  He ran his machine over it and also got what he though was a button tone.  Although it was too smooth to identify,  he seemed to think it was a counterfeit, with them being quite common. I've since looked at it with glasses on, and have to agree. It's definitely a coin, though an unidentifiable one.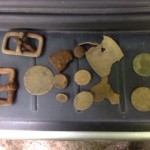 I was a bit more encouraged for the site, and decided to cross the dirt road and try my luck.  My first target was a musketball, so I hit the area a little longer, but there were no other targets, and I went back to find Dave, who had just pulled out a nice buckle.
I wandered a bit, and found another cellar hole that Dave said wasn't even on the map.  He checked it out, but came up empty.
We moved over to the first cellar hole, which was a bit overgrown, and it was difficult to swing.  We didn't have any luck there, and decided to call Todd with an update.
I think Todd could hear our discouragement, and decided he wasn't going to join us.  However, there were a lot of rock walls, and we had time, so Dave and I went back across the dirt road where I had found the musketball earlier.
What I hadn't noticed the first time, was that there was another cellar hole across the road.  I yelled out to Dave about the other cellar hole, and the mood immediately lifted.
I soon found a nice flat button, and some decorative piece of metal, and a few minutes later Dave called out–He had found a large cent!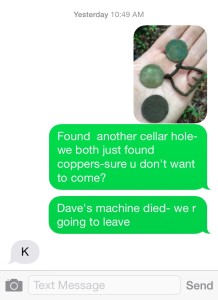 I took a look at his coin, and told him "Now the day is complete", and about 3 minutes and one target later, I was calling out to Dave "I got a coin!"–Just like that–two coins within 5 minutes of each other.  The coin was a 177? King George.  Now the mood was euphoric, and in an attempt to entice Todd, we snapped a pic and texted him.
But… as soon as we were up, we were down 🙁
Daves machine suddenly died.  Talk about bad luck.  Although it had crossed my mind to bring my extra machine, my early morning panic looking for my GPS had sent that thought elsewhere.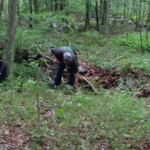 I could see how bummed Dave was, and I offered him my machine, telling him he could hunt, and I would dig the targets.  He gracefully declined, and said he would go dig around the cellar  hole and search around with his pinpointer.  I thought he was kidding, but he went right to it.
I couldn't hunt if Dave couldn't hunt–it was just so wrong.
I texted Todd that Dave's machine had broke and we were leaving.  I told Dave we could come back again, but he was determined & managed to get his machine working, although with no display, no tone ID, and stuck in coin mode (he hunts in relic mode). So we decided to stay a while.
I managed a nice large coat button and another flat button.  I was wondering how Dave was doing with his machine, when I heard "The Whistle".
I quickly headed in Dave's direction, expecting him to tell me he wanted to leave, but as I got nearer to him, I saw that familiar grin on his face, and he was standing over a freshly dug hole.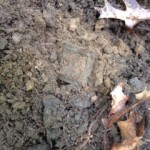 He said "shoe buckle" and pointed at the hole.  I looked in the hole, astonished to see what appeared to be an entire shoe buckle, and in good condition too.
I took out my camera for the unveiling, because as it sat in the ground, it wasn't clear if it was an intact shoe buckle or not. As the video reveals, the shoe buckle was whole, and I know I use the word awesome a lot, but seriously, is there any other word for something like that???
Even with his broken machine handicap, Dave managed to pull out an awesome find.
What started out as a day at a weak site, where you really had to work for your finds, turned out to be a pretty decent day.
Kudos and congratulations to you Dave–I look forward to hunting with you again!