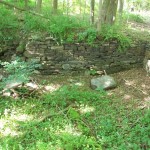 Went out hunting again with Todd & Dave, who I have affectionately nicknamed the "Cellar Hole Junkies", although I haven't told them yet.
I had wanted to check out a local site which had peaked my interest.  Todd took a look at it on the map, and although it wasn't an obvious hot spot, we decided it was worth a try.
Todd arrived at my house in the early a.m. and we were off for what we hoped would be a successful search.  Unfortunately, the site turned out to be a bust. It was still early, so we went and picked up Dave and try another site.  You can check out Dave's finds and the rest of the story here, on the American Detectorist forum.
Todd and Dave each found silver, and my only coin for the day was a lowly wheat penny, but I got a cool 1898 bicycle emblem, 4 buttons, half a shoe buckle, two spoons, a decorative whatchamacalit, and the biggest ball of grapeshot I've ever seen (I guess I won't be making a refrigerator magnet out of that one).
These guys are so much fun to hunt with–They share my dawn to dusk attitude,  have great detecting skills, awesome personalities, and practice chivalry in the field (i.e. protecting me from creepy spider webs and briars).  They are also easy on the eyes– What woman wouldn't want to hang out all day detecting with a couple of good-looking, chivalrous guys?