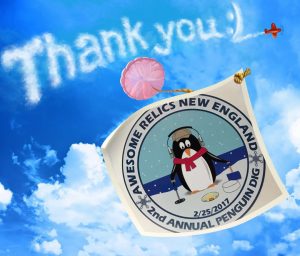 What a great day out Saturday at Scarborough Beach in Narragansett, RI for Awesome Relics New England's 2nd Annual Penguin Dig.
All the worrying we did about the weather was thankfully a huge waste of energy, because it was the most beautiful day of 2017 so far. After the dense morning fog cleared, the sun was shining down from Detectorist's Heaven, leading this fun loving group into a well deserved winter reprieve with temps in the 60's most of the day.
The enthusiasm for this hunt was infectious. It's timing was perfect–February–who hasn't had enough of winter by February? A group hunt at this time of year is a sure way to lift people's spirits, and a great reminder that warmer weather and a new detecting season is on its way.
The event was very well organized–They started on time, ended on time, didn't waste time, and everyone was having a good time. So a big THANK YOU to Awesome Relics New England, all those that supported the hunt, and everyone who came out to the hunt. It was Awesome!