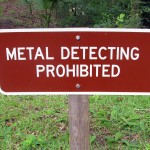 Fortunately, most detectorists, follow and abide by a general set of ethics while in the field.  Occasionally though, There have been times in this hobby when my head just spins over someone's' total lack of respect for property, and the hobby.
I have been volunteering my time, for several years, working to preserve the rights of metal detectorists to enjoy and practice our lawful hobby.  So call me super sensitive, but I get extremely upset when I see the ignorance and lack of respect that the occasional rogue leaves in his or her wake.
This is an open letter to my local neighborhood detectorist, who is one of those people.  I hope he reads this and recognizes himself here, and better yet, learns how to dig a proper hole; but sadly, I doubt he will, as it is obvious he only cares about one thing, and that is himself…
Dear Local Ace Detectorist:
On my way home a few months back, I saw you with your metal detector in hand, crossing the street about 2 blocks from my house. It was obvious you were coming from the tot lot, which, although it's close by, I've never hunted myself. Being friendly, and a little curious, I pulled over and asked if you had any luck.
You were quite disheveled looking, and I thought–oh geez, this is the kind of guy people describe when they talk about seeing that strange person out metal detecting. But being a detectorist myself, and knowing how we are "stereotyped", I gave you the benefit of the doubt and tried to dismiss that thought.
You seemed happy to talk about your detecting, and made sure to let me know that you were the Ace, A number one, Detectorist Extraordinaire, sent here by Saint Anthony himself to find all the lost items in that particular tot lot, as well as every other park and private parcel of land in the vicinity.
I was super impressed (not really) with your self promoted mad detecting skills, and I listened intently, but mostly to your manner, which stated "I am the best, I don't care what people think, I know I am the best, I am a metal detecting master"!
You told me that you work in construction, and have detected all the yards in this historic neighborhood, and with permission too–I thought, well aren't you just so super. You claimed to have hunted them all out, and told me about all the Mercury dimes, and cool relics you found.
You did not know that I also live in the neighborhood, and am very aware of what properties and yards have, and have not been recently detected, as well as who will give permission, and who won't.
Behind you was a house from 1785, owned by a friend of mine, and his mother lives next door. I have personally detected that yard, and pulled out a bunch of cool old coppers & relics. I also know that the owner, and his mother have never given permission to anyone else. So I casually asked "Hey, have you hunted that yard there?" pointing toward my friends house, and your response was "Oh, yeah, I've got permission to hunt them all". I then concluded that it was a mistake for me to be friendly, but I continued because at this point I was just wondering what you would say next.
I decided to throw the big one out there, and asked you "Have you hunted the property and houses around the old Meeting house and the old barn?" This was a trick question, since that's our property, and–it was clearly a virgin property when we had first hit it.
Of course, you, Mr. Ace, did indeed confess to detecting the heck out the property, and although it seemed hard for you to admit, you stated there really wasn't much there. Ha–now this was really getting good. So I inquired if you had hunted the large wooded parcel adjoining it, and was not surprised when you claimed to have had hunted that out too. I briefly thought of my recent silver pocket spill find in that wooded parcel, and was glad you had left that for me. Surely, with your mad detecting skills, you must have had a machine malfunction that day–I mean, why else would you leave that and the hundreds of other goodies I found behind? But of course, I didn't tell you that.
You droned on for a while longer, and I asked if you belonged to any local clubs, the answer was "no". I asked if you belonged to any Facebook groups, again, "no". I then asked what machine you were using……drumroll……..here it comes….. You said you used a "Gannett"!
Being ever so amused, and not wanting to ruin your high, I replied that "The Gannett is a great machine". You seemed happy and agreed. I do not know how I maintained my composure.
Realizing I was dealing with someone with either an enormous ego, or who was just not the brightest crayon in the box, I decided it was time to move on, and bid you farewell and Happy Hunting. I'm sorry I don't remember your name, so I've dubbed you "Mr.Gannett", but it really doesn't matter, as I'm sure I will never chat with you again…
The next morning, I was planning on heading out to an old cellar hole, but at the last minute as I was driving by, something made me stop at that tot lot I saw you walking out of the previous afternoon first. The lot was nothing more than some wood chips swings and slides, but behind the play area was a large grassy slope that led down to the local high school and ball fields. This is where I decided I would focus my attention.
I started swinging and immediately noticed the mess–there were holes, unfilled holes, and lots of them. My anger barometer was rising, and then hit its peak as I walked around looking at the mess. I started filling in, as best I could, the holes left by, I'm assuming, you, "Mr. Gannett", self proclaimed Ace Detectorist Extraordinaire–And they weren't just small holes either. They were the type that someone who just doesn't care leaves. Unnecessary dirt, in like 2 foot areas around a target area. It made my stomach turn and I lost my desire to detect after cleaning up your mess. I also didn't want people to see me and think I was the one who had left it that way, so after doing my best to clean up after you, I quickly scurried out of there.
Thinking back, I was glad something made me stop there–at least I was able to repair some of the damage you left, but your total lack of respect for the property sickened me. You are they type of person who gives detectorists a bad name, and contributes to the "metal detecting prohibited" status, the rest of us have come to know at a lot of our local parks. You didn't even know what type of machine you were using, so should I have been surprised by your lack of knowledge on how to dig a proper hole? Probably not, but I still could not have predicted the degree of your ignorance or disrespect for property.
It's unfortunate that the folks who do have respect and follow the rules have to deal with the discrimination brought about by the indifference and disrespect from folks like you.
I have not seen you since, "Mr. Gannett", and if I ever do see you again, I will definitely say something to you, although it won't be in a friendly, fellow detectorist kind of a way.  It wasn't the first time I've had to clean up other people's messes, but it was the first time I actually know who left it that way.  I'm sure some folks will argue–innocent until proven guilty, and that I have no proof it was you–but I just know it was you "Mr. Gannett", I just know.