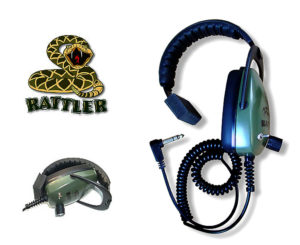 Nine years ago, I bought a pair of DetectorPros Rattler headphones and was so thrilled with their performance that I just had to write a review about them. Fast forward to today, and my feelings about them have only gotten better with time.
My original reason for purchasing them was for my safety in the field. In between the group hunts, and outings with friends on the weekends, there are many times when I'm seeking immediate detecting gratification, and choose to hunt solo.
As a woman out hunting alone in the woods (or any area), I felt traditional headphones were not the safest option. When I'm in the zone, my senses are tuned into my machine, and I sometimes become less aware of my surroundings. A stealthy coyote, protective Mama bear, or possibly a person with malicious intent could sneak up on me, and I might not hear them.
That's what's so great about these Rattler headphones. They are designed so that one of your ears is left uncovered to hear outside noise, while the other has an ear cup so you can hear the signals from your machine. Male or female, its a great concept for safety, regardless of gender.
The original idea for these headphones was for being able to hear Rattlesnakes (hence the name Rattler), and although we do have rattlesnakes in some areas of New England, the headphones value, as I have explained, goes much further than that.
One of the especially handy features of the Rattlers is the volume control knob, and the on/off switch which is located right on the ear cup. When someone speaks to me, yells or whistles for my attention, or I want to have a conversation, not only can I hear them, but I can just switch off the headphone to listen better and respond without having to remove them.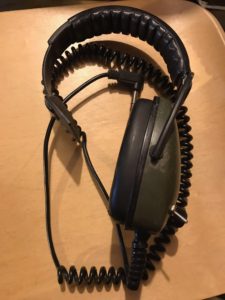 I still have and use my original pair—Nine years with the same headphones! If you knew how much I detect, and how rough I can be on my gear, well thats the greatest testament to their durability there could ever be.
I also purchased a second pair as a back up, because I have to have two (and sometimes three) of everything. I was told by the manufacturer that the headphones have since been improved, and I should have better quality from the speaker, which I did notice, so that's another bonus.
Some folks want to stick with the standard headphones, which is understandable, but not to worry, because if you must have traditional headphones, DetectorPro makes them also. They have about a dozen different models, including ones that are compatible with XP Deus, Garrett, and Minelab, in addition to wireless and waterproof models.
I can't say enough about my experience with the quality and durability of their product. Detecting gear is not cheap, and I don't want to waste my money or yours. I only promote products that I believe meet the performance standards that detectorists need and deserve in the field. The owners are long time, hard core hunters themselves, and have developed their products based on years of their own experience.
You can check out all their headphones @ https://detectorpro.com/all-headphones/, and
click on this link to find out where to purchase https://detectorpro.com/where-to-buy/.
Happy Hunting!