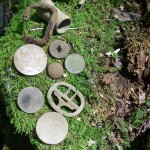 Dave and I got skunked at a cellar hole on Saturday, while Todd was the envy of the day with a beautiful 1907 half dollar.  Dave was pretty bummed on the way home, and it only seems fair that he made a comeback the following day You can read Dave's post about the hunt here.

Unfortunately, Todd had a run in with a swarm of yellow jackets, ouch! Poor Todd–I feel for him.  That can be dangerous, and is something no one wants to have happen to them.
Of course, it was payback for Dave, as he has been teased for the hornets nest he ran into a few weeks back.  Matter-of-fact, we were discussing it on the way home the other day, and I remarked on Todd laughing at Dave as he filmed the aftermath of the hornet incident.  I hope I didn't spread some unintended Karma out there, and Todd, I hope you feel better.