Bill Cameron is a retired Metro North Mechanical Foreman, and has been a bottle digger and collector for over forty years.  As past president of the Greenwich Antiques Bottle Collectors Club, he has lectured on bottle collecting and patent medicine at local churches and libraries. Besides bottles, he enjoys painting, writing, furniture restoration, fishing and clamming. Bill and his wife have three married sons and 2 granddaughters. Bill has moved 5 times in his lifetime but never left Cos Cob, CT.
Tales of the Hunt:  "Living with the Ivy League"
By Bill Cameron
I have been a bottle digger and relic collector for over 40 years and have always felt that bottle diggers and metal detector people are  to quote Kipling" sisters under the skin".
Speaking of "under the skin", for most of my life, man and boy, I have been at war with three nasty irritant plants that I call the "Ivy League". These are poison ivy, poison oak and poison sumac. These are the common name for the species in the genus RHUS of the family ANACARDIACEAE, which are also related to cashews, mangos and pistachios.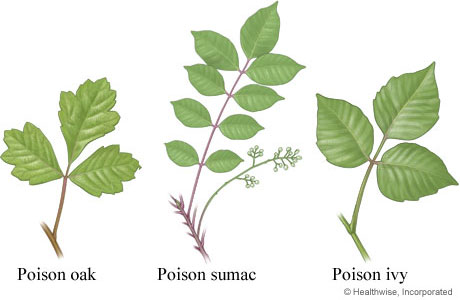 Now that I am doing most of my dump digging at yard sales, its time I pass on some of my hard won secrets of combating the League.
Lesson #1: While digging in winter I found out that the oils of the poison ivy plant drain down into the roots where they are concentrated. One cool March afternoon, many moons ago, I dug a bottle dump under a large poison ivy patch. Wiping the perspiration from my brow with my cloth digging glove resulted in a trip to the hospital later with eyes like slits and a face like the "Walking Dead". A shot of cortisone helped as did the hot toddies for the aggravation.
Lesson #2: Beware of burning poison ivy, oak or sumac. The oil of these plants can mix with the smoke and affect any exposed skin area. If the smoke is inhaled it can lodge in the throat and lungs. Expect a sure trip to the hospital.
Lesson # 3: When digging in "Ivy League" country. Always bring a small plastic soda type bottle filled with soapy water and a clean rag, Wash hands, arms and face before returning home.
Lesson#4: Treating the rash and maddening itch from a run in with any of the "Ivy League" can be a challenge. There is an ancient Indian remedy that uses the stem juice of the Jewel weed plant. Most people rely on layers on calamine lotion. Years ago I read of a treatment that is both easy and effective. If the rash is on the hands arms or legs, simply run both hot and cold water mixed equally thru a common faucet. Place the affected areas under the running water. Then slowly very slowly reduce the cold water. There will come a moment when the hot water begins to get too hot to bear.  This slight burn stops the itch for hours and can be repeated. It also helps to dry the rash.
I have been dealing with the "Ivies" for so long that I have come to think of their arrival as I would a visit from an unwelcome relative. Over the span of time, the Ivy has crept into my life even as far as my outlook on art. Whenever I see a painting or sculpture of a nude with a patch of leaves covering its modesty, I shudder when I wonder at the consequences if those leaves were dues paying members of the Ivy League.