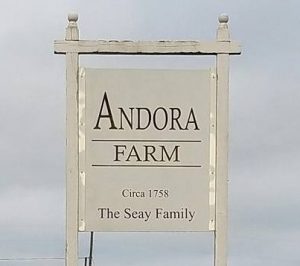 I arrived home from the Andora Farm hunt in Culpeper, VA at about 1 a.m. on the Monday morning after. I hadn't planned on being home so late, I expected to roll in around 8 or 9pm while it was still Sunday. But, those plans were sidetracked by having faith in my GPS, and listening to folks who said "It's Sunday, you can take 95, there won't be much traffic on 95 on Sunday".  Dumb, dumb, dumb.
I had made it down to Virginia in decent time, via interstate 81. I knew that route would take about an hour longer, and with flashbacks from previous 95 nightmares, I decided the extra hour would probably be worth it.  It turned out to be an extra two hours with all the construction in Pennsylvania… Right lane ends, merge left; left lane ends, merge right; right lane ends, merge left, etc…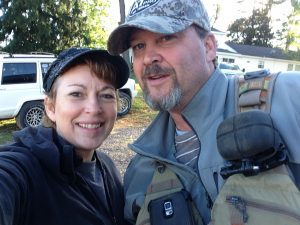 When I finally arrived, most folks were already there.  I was greeted by Woody and Steve from the Pennsylvania club, and we started the weekend off drinking some moonshine, and a really tasty concoction made of pink lemonade and Malibu.  Shortly after that, Tom and Terry, a.k.a. Delaware Digger (check out his YouTube channel)  joined us, and with the anticipation of the next days dig in the air, we drank, talked about finds, sites, past hunts, and laughed our asses off, until finally calling it a night.
Day One: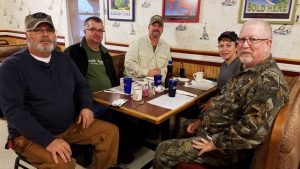 Morning came, and we all headed to the local breakfast spot. I was thrilled they had scrapple on the menu, and with my scrapple, eggs and pancakes I was in breakfast heaven. We got a laugh over the "Great Value" pancake syrup which was proudly plunked down on the table for us.  I guess that's how they roll in Virginia, 'cause if we were in Yankee territory, they would have at least disguised the brand by putting it in a Aunt Jemima bottle.  Just sayin'.
After breakfast we headed on over to the Farm, a half hour early, yet it seemed like we were the last ones there. We met the owner Tom, and his wife–such awesome people, and were given the history of the property, an overview of what was found on the last hunt, and the lay of the land. It was all mixed with a lot of witty jabs from our host about us Yanks, i.e. Dinner was at 5pm, but if you were of the Confederate persuasion, it was at 4:30pm, and so on…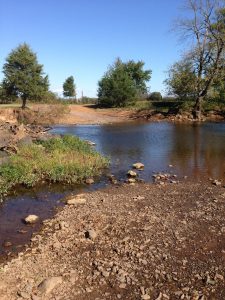 After we'd been briefed everyone made haste to their vehicles, forming a beeline to cross the creek toward the corn fields. We were told the creek wasn't high, only about 4 inches, and all those with 4 wheel drive could easily cross. I was about 4th in line, and as we descended toward the creek I took notice of the vehicles crossing in front of me. That water seemed a bit deeper than 4 inches, and I was in my little, low to the ground Impreza.  It has AWD, but still.  So I hesitated and motioned for others to go around me. I was starting to panic a little. I did not need any more car trouble in my life, but as the other vehicles passed by, the occupants assured me I could make it no problem.
I got brave and descended toward the creek to begin my crossing, which was not bad, until I realized the water was about a foot or more and coming up the door. I was like oh sh*t, and stepped on the gas a bit to try and get myself out of there quickly, but that was a disaster–I've never driven a car through anything but a puddle before, and the car started steering itself and lost traction. So I let off the gas a bit, and it started to move. I made it across with my heart beating fast, and saying prayers out loud that I didn't just do something disastrous to my new car.  For the life of me, I don't know why I sometimes listen to other people.
Once I was safely on dry ground, one of the guys came over and apologized for telling me to go through the creek and had me pop open the hood. He noted that the water had not reached the intake, and suggested I leave the hood open for a while and let it dry out.
I was still a little freaked out, and promptly called my guy, a retired race car driver, and current NASCAR inspector. He knows more about cars than anyone I've ever known, and if anyone could talk me out of a near panic attack, it would be him. He basically told me not to worry about it unless the car wouldn't start, and told me not to go back through the creek (thanks for the über technical remote evaluation babe). Yes, his words were just common sense that anyone could have said, but coming from him they had a calming effect.  So after we spoke I stopped worrying, grabbed my gear and headed out into the field.
Someone from the Pennsylvania club (Roman) had sent down his Infinium with Woody for me to use at the hunt. I thought it was an extremely nice gesture for him to lend a machine to someone he didn't even know, because you know how we are about our machines. So, Thank you Roman, I appreciated it.
After some brief instruction, I set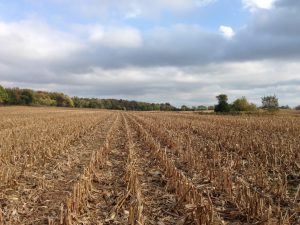 off, still a little perplexed, but hopeful. I was straining to listen for the high, low, high or low, high, low signals, but after a few targets I started to get the hang of it. I pulled some garbage and a few rusty things out of the ground, and I was like this is cool, but after about an hour I was having trouble swinging. The machine was too heavy for me, and I was a little disappointed, but I still had my E-trac.
People say you can't hunt in mineralized soil with the E-trac, and you need a PI machine for depth. But I'm not going to dig anything that's crazy deep anyway, so I gave it a whirl. I reasoned that I hunted DIV and a half dozen other sites in this area of Virginia with my E-trac, and did very well, so I figured I would here too. We moved to another field, and I found about a dozen lead bullets, but modern ones, not three ringers. So my machine was picking up lead at about 6″, what's wrong with that? The guys with the PI machines were getting the same exact targets.
We hunted a few different areas through the day and came out pretty much empty handed, but Delaware Digger did find a fired three ringer, and our spirits were still high as we all headed back to the house for dinner.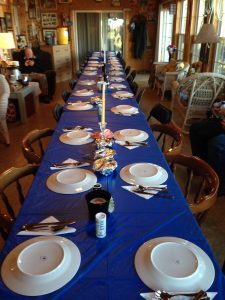 Our hosts put on quite an impressive spread for this group of diggers. It was so nice to just bring our appetites right in off the field to this wonderful meal of ham, roast beef, homemade biscuits, green beans, mashed potatoes, etc… There was plenty for everyone, and it was delicious.
In addition to the great food, there was the hum in the air of the type of excitement and enthusiasm only detectorists can generate when they are all together. There is a commraderie in this hobby unlike anything I've ever experienced among any other group of people. Whether you find treasure or not, metal detecting is just plain old good for the soul.
After dinner, we headed back to our motel, and mixed some more moonshine in with our laughter, while discussing hunt strategies for the next day.  I reluctantly called it a night after struggling to keep myself awake, and nodding off in my chair.
Day Two: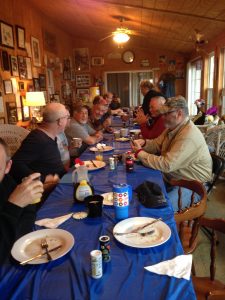 The next morning everyone was hurrying back to the farm, excited to hunt, but also excited for breakfast (well at least I was). Folks seemed to be in a good mood, as they dined on the once again, delicious meal from our hosts. Eggs, bacon, sausage, biscuits & gravy, pancakes, you can't say they didn't feed us well, and certainly were aware of our appetites.
Again, after breakfast  everyone headed to their vehicles. This time I did not participate in any creek crossing drama. I took the 10 minute drive around to the other side of the farm and let myself in the gate. Something I should have done the day before, but was too caught up in it all to realize there were other entrances.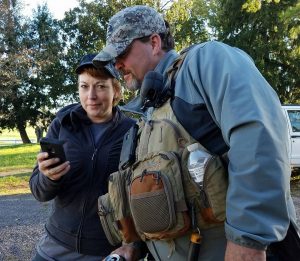 We had gotten info from someone who hunted the farm the previous year on where the campsites had been, so we headed toward that area. I had watched a video of that hunt, and from the background in the video, I thought the guys might be heading in the wrong direction, but I wasn't sure, so I started wandering towards where I thought the sites were. After a while I did find the area, and it was kind of obvious because you could see where the ground had been previously disturbed, and the one especially square excavation spot from the video.
I hunted around the area for a bit, but I didn't get so much as an iron signal.  It must have been picked pretty clean by the previous hunters.  A little discouraged, I took one last look at the area, sighed, and hiked it on out of there and up to the ridge where I was told lot of stuff was found on the previous hunt.
The ridge didn't give up a lot of signals, except for that one sweet signal that I worked on for at least a half hour. It was under roots, but not just one root, it was many roots, and they were all criss crossed and mangled together. Try as I might, I just could not get around or through them. What I needed was a saw, which I didn't have, so I finally gave up on it.
I got a few other decent signals, but all turned out to be garbage. I moved on to another area, and again, got another sweet signal, and again, roots. Large intertwined roots that I could not break through. I think the only reason those targets were still there is because someone else couldn't get to them either.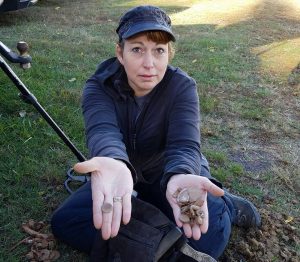 So, with nothing much to show for my efforts, I made my way back to the others, figuring I would be the only one who had a skunky day, but no one else really had any luck either. I heard that someone found a Virginia button in one of the front fields, and a gun tool and some kind of necklace piece was found, but there weren't many finds that came out of those fields.
The owners then gave us permission to hunt around the house, and the finds started piling up. Steve's first target was a three ringer, Delaware Digger pulled up 2 foreign silver coins (I think Australian) with holes in them, someone found an arrowhead, Woody picked up a Mercury dime in a hole with a bunch of nails, and I dug 2 flat buttons, a large lead ball, part of a clock, a spark plug, and part of a child's toy gun.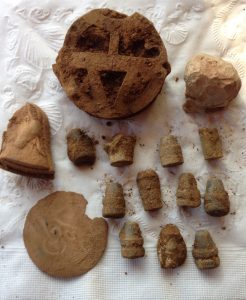 Finally, we were finding stuff, and it was kind of funny to see everyone milling about the house excitedly digging. It didn't last long though, because dinner was being served, and how could we miss out on our hosts great meals?
It was just like Thanksgiving as they brought out turkey, stuffing, biscuits, green beans, cranberry sauce, corn pudding, yams, etc… The finds may not have been too fantastic, but the food, the people, and the enthusiasm was.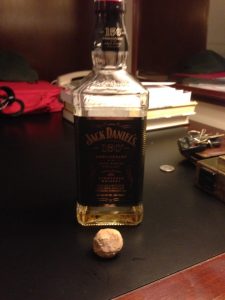 Another day was over, and our tired bunch made its way back to the motel where Jack Daniels and his brother Moonshine were waiting for us.

We drank, and talked and laughed, and laughed, and did I say laughed? Some of the stories Delaware Digger told were beyond funny, and the reminiscing, and the Jack Daniels they kept putting in my cup… Omg–what a great time!
Day Three:
I went to bed with a good buzz, and woke up with swollen eyes and a headache. Not the usual one bag under each eye until I shower and have coffee morning, this was serious two bags under each eye stuff, and my face was puffy too. It kind of made me wonder how I survived all the partying I did in my youth.
I showered, put some moisturizer on my face, added a little concealer, screwed up my mascara horribly, and then I said f**k it, and headed to the 7-11 for the largest coffee they had. Predictably, I was the last to show up to the farm, and most had already eaten and were off hunting. Some folks had to go home, so there were only about half of us left.
The hosts wanted to interview us for a documentary they were making, and I am notoriously interview shy, having turned down or made excuses for all detecting show invites–not to be mean, but because I am very aware that I am a writer, not a speaker.  I like to think about what I'm going to say before I say it, which doesn't give me the ability to think and speak fast, for things like, say, interviews… A lot of the time it keeps me from saying stupid sh*t, but it can be frustrating to those trying to have a conversation with me when I pause too long before responding.
Anyway, they interviewed Woody, and were going to interview someone else, and I was ready to scoot on out of there when the host grabbed me and said, we'll do you next. I was like oh my friggin' God, hangover, clumpy mascara, swollen eyes and all, here it goes. I was in no state of mind for this, but it was over in a couple of minutes. So if they want to use the footage so be it, if not, that's fine too.
After the interviews, we again went back out to the fields. The owners told us where the Indian settlement on their property had been, so Woody and I set out to find it.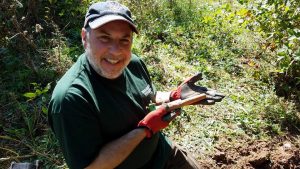 We found the settlement, and hunted around a bit, then joined others at the top of the ridge. As soon as we got to that area, someone (Dan) was digging for a target and found an arrowhead in the hole, just like that. We were told a lot of arrowheads were found there, and every hole I dug I looked for white Quartz. I did find some Quartz, but I have no idea if it was part of a spear or arrowhead or not.
We hunted around for another hour or so, and all I found was some camp lead, but part of a spear was found by Woody laying right on top of the ground. Then I looked at the time–it was 1:30 pm, and I would have stayed all day, but I had a long drive in front of me. So I said good bye and good luck to the few that were left, and Woody and I headed to the house to say good-bye and thank our hosts.
I then bid a fond farewell to Woody, punched in home on my GPS and I was off.
The hunt was a bust, but the weekend was the best.  I was doing what I love to do most, and had a blast with this fun, awesome group of folks  Kind of hard to top that.
A special thank you going out here to Woody McKay of the Southeastern Pennsylvania Historical Recovery Group for taking such great photos.  Thank you Woody!