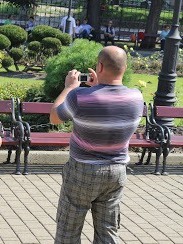 I was reading Dick Stouts post about Dig Fella's  and decided to give my own blog stats a look. I noticed that although my posts about "Warsaw Wally's" rantings & rage are not number one on my list of most viewed posts, when he mentions me on his blog it draws quite a bit of traffic to my site.
As this seems to be the week for "Wally Bashing" on the blog scene (and for good reason), see John Howland on Stout Standards Malamute Saloon , John Winters blog , the Classical Coins blog, and Classical Coins blog again.  I figured I would give him a mention here also.
Since Barford hasn't bashed me yet on his blog this week (not that I'm aware of anyway), I can't bash him back, but I can, however, address the rumors.
I've received a few emails where the authors have stated Barford, aka "Warsaw Wally" is a huge fan and admirer of mine, and has a crush on me. They have gone on to suggest his rage stems from the frustration of not being able to date me, due mostly to the distance factor–Traveling from Poland to the US being a huge obstacle in such an endeavor (but I think if he loved me he would find a way…just sayin').
Although the rumors of Wally's admiration and crush have yet to be proven, I will say that I have always liked my men a little on the feisty side. And while the thought of being Mrs. Barford, along with the oh so predictable detectorist -vs- archaeologist matches which would certainly ensue gets the erotic part of my mind going; I don't think it would work.
As most men who wish to maintain harmony are aware, women are always right. I would end up having to leave the relationship because the challenge would surely fade.
If you add Wally's preference for donning 80's attire & his habit of wearing stripes with plaids into the mix, well… I think you can see where all this is going… Sorry Wally.