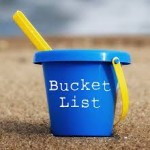 Bucket List:  In Metal Detecting, a bucket list is a list of coveted, wished for, or cool items you hope to find during the upcoming season, or throughout your detecting career.
I think everyone has had a bucket list at one at one time or another. Some have fulfilled their lists, and have moved on to different ways of challenging themselves, such as beating the previous years silver or gold count, aspiring to find a record number of shoe buckles, coppers or flat buttons, (or in my case…oxen shoes). Others though, may still have a few elusive items they've yet to acquire.
Bucket lists can be fun–having goals for the season brings enthusiasm to the hunt, and it makes the search a bit more entertaining. It can also add a little spark of competition between you and your detecting buddies. Sometimes it can also lead to frustration, as you watch the coveted item which you have longed to acquire, be a commonly found target by everyone you go hunting with–except you, of course.
With the exception of Indian Head pennies, (my all time favorite coin), once I cross an item off my list, I don't care if I ever find one of those items again.
But a funny thing always seems to happen… once I've finally found and crossed an item off my list, I suddenly seem to keep finding more of that item.
Such was the case with my perpetual search for the elusive crotal bell. It seemed every hunt I went on, someone found one,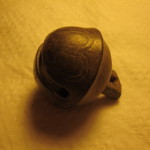 and it was not me. Oh how I pined and whined to find that item. I was the victim of "crotal bell envy" at every site. I would rationalize with myself that its "just a horse bell", the odds are in my favor. If everyone else is finding them, then surely my crotal bell glory is just around the corner. But time went on, literally months, and still no bell.
Oh sure, I found pieces of them, little teasing pieces of metal with that smooth finish and cheery horse bell design engraved on one side, but on the other side they always had "ha ha, you lose" written in that invisible ink only detectorist's can read–until finally, in disgust, I gave up on my crotal bell finding quest.
Shortly thereafter, a last minute decision to hunt a local "hunted out" site, just one more time, netted me my first crotal bell. I wasn't even thinking about a crotal bell, and bam, just like that it appeared.
Now, if you're familiar with the "Law of Attraction", then its probably already apparent to you what's going on. Once you stop focusing on not being able to find a particular item, you find it. You wanted to find it, the universe heard your request, and it was in the process of granting it to you, but you blocked it by focusing on not receiving it. It wasn't until you released the negative that you received the positive.
You may be thinking that's a bunch of BS, and your entitled to your opinion, but for those of you with unfulfilled bucket lists, give it a try–you've got nothing to lose.
The problem I have, is that I do tend to get drawn toward the not finding part of it all, and it takes a while for me to make the correction, even though I'm aware of the concept.
To date, I've found many items on my bucket list. I even found some items not on the list that probably should have been, but here is my current bucket list:
Gold coin
8 Reale (whole, not a bit)
TRIME
Legible NJ Copper
George Washington button
A whole shoe buckle (not just the buckle or tongue)
Silver dollar–any year
Golden oxen shoe
Yes, it's not a long list, but it used to be. Patience and positive thinking have dwindled the list down to these few items. With the exception of the golden oxen shoe, I'm sure i'll be crossing some more items off the list next season. But then again, who knows, maybe there really is a golden oxen shoe out there….somewhere.
What's on your bucket list?