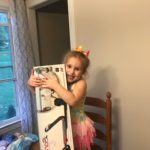 I was going to post a product review, but then I changed my mind and decided to post a video of my granddaughter Jordan, a.k.a. "Marshmallow-J" (the detecting name she picked for herself), because she likes Marshmallow's and a song by someone named Marshmello.
Anyway, Jordan, sorry, Marshmello-J, likes to talk about metal detecting, and for a newbie and a five year old, she's pretty darn smart.  She's done a series of metal detecting videos dispensing her 5 year old wisdom to the metal detecting community.  They are short and sweet, and to the point—and if her cuteness doesn't get to you, maybe her wisdom will.  Enjoy!
If you can't understand the beginning, she's saying "don't clean treasure, even not clean pennies if they're Treasure, just put them in your penny bank and and then just leave it there…"
Happy Hunting— May you find lots of treasure for your penny bank!