I've had a lot of offers on my Oxen shoe collection since posting a photo of it on my Facebook page; and since there is so much interest in acquiring these rare and valuable items, I have decided to actually go through with my plans for opening the first Oxen Shoe Museum (pending funding).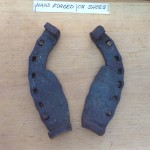 You may be wondering just what, exactly, it was that made me decide to go through with it–so I'll tell you. It was the neat treasure I found at the Elephants Trunk Flea Market in New Milford, CT–hand forged oxen shoes on a plaque. They were obviously considered valuable by the seller, and folks were looking at them.
I stood in awe, as I watched the items I cannot avoid with my E-trac, no matter how I try to walk away from that signal, be purchased by a fascinated flea market patron.
My mind went into overdrive as I imagined the money I could make from my own oxen shoe collection, (should I decide to nix the museum idea and sell them outright). Perhaps I could sell them at the very same flea market? Thank goodness I had stopped throwing them away.
Whats so great about all of this, is that with my acute ability to attract oxen shoes, I am certain that once my supply is exhausted, (through museum display or sale), I will find more–I will definately find more.
And should the popularity of these novelties decline, I still have my spoon collection as a back up.  I'm set for life.
Happy Hunting!