The Land or Sea Pinpointer
by Gold Digger Innovative Products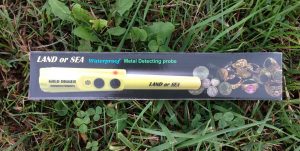 Another pinpointer review?  Yup.
And with all the probes I've reviewed, as you can imagine, I've got quite a few in my collection.  Even so, there are only two that I mainly use. The every day one which I use most of the time, and the waterproof one for the beach or rainy days.
Your probably wondering why I just don't use the waterproof one all the time, and that's a valid question, so I'll tell you why. Because I don't feel my waterproof probe performs as well, or has the depth of my everyday probe, so I switch them based on where I'm hunting.
But, I have at times wished someone would come out with a pinpointer that's performance is acceptable in all conditions, and someone finally did–Gold digger Innovative Products, with their Land or Sea probe.
I was introduced to the Land or Sea while at a recent hunt in Virginia. It's hard enough hunting without a PI machine in the red, mineralized soil of that area, but then when you do find a target, and pull out your old trusty pinpointer to locate it, it starts falsing on you. It's beeping at everything. You touch it to the ground and it goes off, so you start pushing it all over your hole thinking its picking up something, but nope, it's just randomly freaking out over the mineralization in the soil.
Eventually, after messing around with it for a while, and being within range, it may hone in on your target, but by then your so annoyed… That's how I was feeling anyway.
Lucky for me, I ran into an old friend and Land and Sea distributor at the hunt. We were discussing the soil conditions, and he told me about this probe, and how great it works in mineralized soil. He is also a diver, and told me it works great under water, and it's now the only pinpointer he uses while diving.
I was intrigued when he said "Here, I'll give you one if you write a review on it". This can be a dangerous thing for someone to say, so I responded "What if I don't like it–can I write a sh*tty review?" He smiled and said "I'm not worried, I know you'll like it".
So after a brief instruction on its operation I set off to go find targets to pinpoint. I was hoping this probe operated as well as he said, because I don't like to tell people I don't like their product, or can't recommend it because it sucks.
Well, obviously, he was right, because I did like it, and here's why:
PERFORMANCE:
First of all, it does what it's supposed to. With its pulse induction circuitry, it pinpoints targets in mineralized soil without falsing. I pushed it against my hand, the ground, and all over the hole where my target was. The only time it went off was when it was pinpointing the target. I used it for two days straight in that mineralized red Virginia dirt, and it did not false on me.
Another feature that I especially like about it, besides its three modes, (sound, vibrate, and vibrate & sound), is that the sound is not too loud. I have duct tape wrapped around the speakers of all my other pinpointers, because I like to hunt in sound & vibrate mode, but they are all so darn loud–not cool. I'm a huge fan of keeping a low profile while detecting. No one needs unnecessary attention while out in the field. This probe was loud enough to hear, but not loud enough to make everyone come have a look at what you're doing.
And if the sound isn't loud enough for you, they've added an LED light that goes off in conjunction with pinpointing your target. So you have sound, vibrate, and a light to aid in your target retrieval. I think this would also be a bonus for those who dive, as sometimes the water can be a bit murky.
It has decent depth–at least a few inches. It's range is not as deep as my every day probe, and it has trouble detecting very small pieces of gold, only honing in on them when they are very near the tip. But I think it's other features more than make up for that.
The waterproof feature is a huge bonus too. I used to hunt the beach, or in the rain with my probe inside a ziplock bag so it wouldn't get wet. It's a good method to use in a pinch, but eventually the bag wears through. I'd rather not have to worry about such things, and just use something that's waterproof.
I tested it at the beach, another place where falsing can be an issue, and I was pleased that it worked just as well in the wet mineralized sand as it did in the red soil of Virginia. It did not false, and only beeped to indicate the target.
I did not hunt with it underwater, as I'm not a diver, however, I did test it digging targets while wading at the beach, and it performed just as well in the salt water.
I should also mention the color, bright yellow. Easy to see if you're under the water, or if you left it at the last hole you dug, and have to go search for it.
THE BOTTOM LINE:
When comparing pulse induction probes to non pulse induction probes, you have to consider what each is designed for, and what conditions you usually hunt in.
The Land or Sea pinpointer may not be as loud as, or have the depth of some other probes, but it works well in all soil conditions, and salt water. It is durable, waterproof to twenty feet, and would be a welcome addition for shallow water divers, beach/surf hunters, and those who hunt where soil mineralization is an issue.  It is also a decent all around probe for those who want to have all those options at a reasonable price.
FEATURES:
Waterproof to 20 feet
3 Operation Modes – Sound, Vibrate & Signal LED – Sound & Signal LED – Vibrate & Signal LED
Low battery Indicator
LED Flashlight – on when the pinpointer is on
4 Sensitivity Levels
Powerful pulse circuitry that works great in mineralized dirt and salt water
2 Year Warranty
WHERE TO BUY:
The Land or Sea retails for $99.95, comes with a 2 year warranty, and can be purchased at:
golddiggerinnovativeproducts.com
thegolddigger.com
Colonialmetaldetectors.com
kellycodetectors.com
www.bigvalleymetaldetectors.com
treasuremtndetectors.com
windycitydetectors.com
myersdepot.com
northgeorgiarelics.com
HAPPY HUNTING!!!