Nic-A-Date–A quick Review: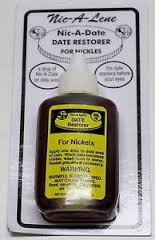 I have tubes of old worn Buffalo nickels who's only value is the value of what they are worth to me personally, because I found them.  It frustrates me when I can't see the year, because, like everyone else, I always want to date the coin.
About 5 years back I heard about this product "Nic-A-Date" by Nic-aLene, which is a date restorer for old nickels.  I had looked around for it a bit, but couldn't find it and forgot about it.  Then about a month ago I saw a YouTube video featuring the product, and my interest was renewed. I searched for it again, and found it on Amazon. It wasn't expensive either, I think I paid around $6.00 for it.
I was skeptical, but I tried it out on a bunch of my old nickels, and it does work.  You have to be careful though, because if you leave it on too long it will stain the coin.  Not sure how to get the stain off, and I didn't even try, but I'll bet there's a video someone has posted on YouTube that can show you how.
Now while Nic-a-Date will restore the date on those old nickels, (in seconds–while you watch) it will also destroy any value the nickel had.  Disclaimer:  Read and heed the instructions.  I assume no responsibility for you screwing up your nickels, but I'm telling you about it because it works, and if you have worn old, dateless Nickels, they're probably not worth anything anyway, but at least you'll be able to see the year.
The 2017 Mega Red Book: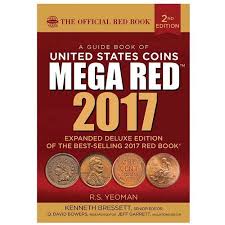 While I was searching Amazon for Nic-a-Date, I spotted The Mega Red 2017 Expanded Deluxe Edition of the Best-Selling 2017 Red Book (try saying that 3 times fast).  The Red Book is another one of those things that every detectorist wants or has.  Even though I have a few recent editions of the non-Mega red book, and some very old editions I picked up at Flea markets–just because they were cool, I was intrigued by the word "Mega" in the description. I mean who wouldn't want a Mega Red Book? So I added it to my shopping cart. You just gotta love that Amazon Prime.
Anyway, I just want to say "OMG", because that's what I said when it was delivered. The box was so heavy that I was sure Amazon had made an error packaging my order. But nope, the book is that heavy.
This version of the Red Book is in a word, Awesome. It has a 330 page feature on Flying Eagle, Indian Head, and Lincoln cents (covering 607 varieties)–cool.  It has more grades, more auction records, more die varieties, and expanded coverage of American colonial coinage.
It also has In-depth grading instructions, enlarged illustrations, and close-ups of rare varieties.  Just about anything you want or need to know about those coins you find.
The only down side I can see to this edition is that its not something you can easily keep with you to use as a reference.  I like to keep my old paperback version in the car to help myself or others identify some of the older coins they've found.  It comes in handy when you can't read a date on a coin, but you can at least look up the years the coin was made to give you a general idea of its age.  Of course there's always Google, but I know from experience that you can't always rely on your phones internet in some areas.
Anyway, if you're an old coin lover, like me, you're going to love this book, and even if coins aren't your number one find, you'll still enjoy browsing through its pages, checking out all the great pics, and you might even learn something new.
The 2017 Mega Red Book retails for $49.95, but I paid about $30.00 for it on Amazon, and the shipping was free with Amazon Prime.  I'm not sure how much shipping would be without Amazon Prime, so I would investigate that if your not a prime member, because it is a heavy item.
Happy Hunting!