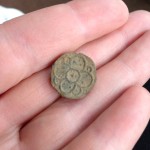 I set out the other day to scout a spot for a future hunt in an area I had thought about going to many times, but I had just never gotten around to it.
I started off following a trail through a small pine grove, and then I was in a swamp. Discouraging, yes, but… what else is new? Swamps are everywhere around here, hence the reason my hometown was called Swampville a few hundred years ago.
Being familiar with the habit of swamps to start and end abruptly, I figured the terrain would change, especially with the big mountain looming in front of me. It's kinda hard for a swamp to take up residence on a mountainside.
Soon, as expected, I was walking on dry ground again, and back on the trail. As I walked I was aimlessly swinging my machine, not expecting much–maybe some clad or a shotgun shell, which, of course I would dig, because you never know.
Suddenly I hit upon a target with a high quarter signal. Ahhh, I thought–At least its a quarter, and not a penny. By the sound I knew it was close to the surface, but looking down, I saw this tiny bit of poision ivy exactly where I wanted to dig. I was annoyed, and said out loud, "its probably just a quarter girl, walk away–just walk away… " But, of course I am obsessed, and could not leave the target, even if I caught poison ivy while retrieving it.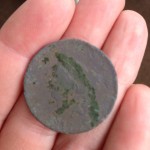 I took my T-handle, and popped a small clod of soil out. Out with the soil came a coin, which at first glance I took for a dirty quarter, but wouldn't ya know, it turned out to be an 1817 large cent. Woo hoo!
Enthused, I scouted on, looking for more signs that it would be a good place to hunt. A few minutes later, I hit upon a signal which resembled a shotgun shell, but my experience had me curious, thinking it could be something better.
It was a difficult retrieval–one of those, how am I going to get around these roots without a chain saw type of a hole. They suck. After some major frustration, I found the target, which turned out to be a pewter button that had a nice design on it. Definitely worth the effort.
I walked on a bit further, but stopped before I got to the mountain. The brush was getting dense, and I was alone. I didn't need to be running into any bears, and the scratchings on the trees were indicating that mountain lions might be in the area. I'd rather be safe than stared down as possible prey.
Of course they say there are no Mountain Lions in CT, but try and convince the local residents who have reported seeing them recently; and then there's the one they found dead in Greenwich (so I guess if its dead when they find it, that means they aren't here)? Just sayin'.
Anyway, I was happy with my two finds, and decided that this would be a good place for me and my better half to come back and hunt on the weekend. I found the large cent by luck, so who knows, maybe we'll find the Revolutionary War camp rumoured to be in the vicinity.
Happy Hunting!