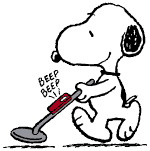 Here's a bit of metal detecting humor to start off your week.  I'm sure some of you can relate–Happy Hunting!
The ABC's of Metal Detecting:
A-is for Annoying, as in those folks who come up to you on the beach and say "If you find a gold ring, I lost it", followed by smug laughter. Oh gosh–we've never heard that one before–Comedy Central is on our speed dial, just for you.
B-is for Bragging Rights.  Go on, you've earned 'em. Facebook, Twitter & the forums are waiting!
C-is for Crosshair, but if you're blind like me, you can't see it anyway.
D-is for Discrimination, as in, I don't want to detect with him/her because they wear mismatching Camo.
E-is for Eternal, as in the Eternal search.
F-is for Ferrous, in other words Junk. Sometimes F may also be used as part of an expletive, for example, "F**k this hole!"
G–is for Gold. Is elaboration necessary?
H– is for Holes, let's fill them in when we're done please!
I-is for Iron (see F)
J-is for Jewelry. The home front never complains when you come home with that in your pouch.
K-is for Karat.  Best when it follows the numbers 14 or 18.
L-is for Leave-a-rite, as in "leave it right there".
M-is for Mysterious, like that signal that was there just a second ago.
N-is for Non-Ferrous, hopefully similar to G.
O-is for Obsession, just tell people "It's a healthy hobby".
P-is for Problem solving, i.e. How the heck am I gonna get around them roots and under those rocks to my target?
Q-is for Quiet, something you don't want to hear in your headphones.
R-is for Re-check! There could be something else in that hole.
S-is for Skunked—hey…it happens.
T-is for the TREASURE we know is just waiting for us. Will they still call us obsessed if we find it?
U-is for Unkempt, how we look in the field.
V-is for Vascillate.  Something we tend to do when trying to decide which site to hunt.
W-is for Why, as in when you find something, WHY is it the first thing everyone asks is "How deep was it?"
X-is for your X. The one who made you choose between them or metal detecting. Hence the reason they are an X.
Y-is for Yelling and heard frequently at good detecting sites.
Z-is for Zilch, as in a bad day detecting. But still better than a good day doing most anything else.