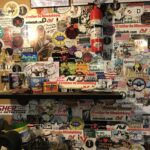 Stickers, stickers, stickers—Who doesn't love stickers??? I love stickers, I've always loved stickers. They're just so darn stickery and cool.
For about a decade I saved all my metal detecting stickers, waiting until I had enough to start decorating my "Woman Cave".  This not so feminine "Cave" consists of my detecting work bench and gear storage area of the unfinished basement. It's also where I sit to drink wine or coffee while I'm writing blog posts or cleaning my finds.
It's quiet here.  No one bothers me, and I'm surrounded by all things metal detecting—including my "in progress" sticker wall.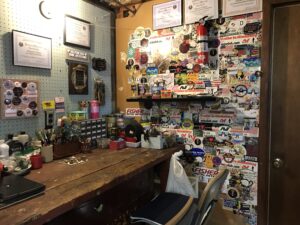 I predicted this metal detecting sticker trend about 2 years into the hobby, and created hundreds of them, which are all gone now, and sadly, so is the vinyl sticker machine I had borrowed from my son.  With that machine I could create any sticker I wanted—and have the ability to write whatever I wanted on them—brilliant!  My favorite creation was "My Favorite site?  I'm not telling, that's why it's still my favorite site."  My creativity is endless, I know (chuckle), and I was sure no one else had that sticker on their car, or probably ever wanted it on their car.
I've always had a knack for predicting what will become popular, and I probably could have made a lot of money with this trendy metal detecting sticker phenomenon.  The reality of that though, is you have to want to make a business out of it. I do not. Once anything I enjoy, like writing for example, becomes a chore, I lose interest.  This is the reason my blog remains a blog, and why I've graciously declined all companies and individuals who have tried to get me to sell their merchandise here. 
But for stickers… I just might bend the rules for stickers. 
Stickers are the bomb. They say a little, or a lot.  They're fun.  They allow you to express yourself and your interest(s) without fear of reprisal, and can advertise a product while being totally cool at the same time. They are colorful, or just plain black and white (my favorite).  They're inexpensive to buy, inexpensive to produce, and don't take up a lot of storage space.  If you do find yourself overrun with them (rare, but it happens), you can just start sticking them on stuff, and then collect more.  
It's kind of hard to explain stickermania to the non-sticker loving person (yes, they do exist).  I go to group hunts where they're raffling off pinpointers and machines, but my main focus is on obtaining metal detecting stickers. If they're giving them away, I ask my friends if they want theirs.  I make it known that I collect them, and suddenly people start giving them to me.  They go home with a new machine won in a raffle, but I feel like I'm the one who won the prize, as I return home with my baggie full of stickertopia.
Over the past year, I've seen this phenomenon bloom online as just about every detecting club, personality, or wanna be personality has discovered stickers as well. There are Facebook groups, like "Metal Detecting Sticker Swap Portal" where members exchange stickers, and display their new creations.  The mood is "I want that", and folks anxiously vie for a chance to trade or swap from their own collection, or to obtain that new or rare one.
I've traded with hunting buddies or club members too.  Just put it out there that you have some to trade, and you'll be amazed at the response. There's just something so darn fun about getting an envelope full of them in the mail. Seriously, try it. 
They don't have to be just detecting related either. I'll use just about any sticker to fill a space, as long as it's not offensive (or political).  If you include outdoor manufacturers in your collection, L.L. bean, and Duluth Trading give out some cool ones for free. Just ask at the register, and if they have any, they'll usually give you a few.  
Another place to find cool stickers is at the Five and Below store. I've scored some books of them there for $2.00, and although not metal detecting related, some are pretty cool and do make for good fillers, which, if your serious about your sticker wall, or stickerbombing anything in general, you're going to overlap them anyway. If you're a true fan, it won't matter.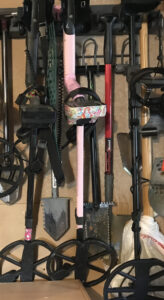 I painted and sticker bombed my old E-trac with Five and Below stickers, and it was not an expensive undertaking. The E-trac did not have to be detector themed, because, well, it's a detector, no theme was necessary.  So I opted for pink paint and pastel rainbow colored stickers to match.  Spray paint $5, stickers $2, and Mod Podge $3 (clear glue painted on to secure them).  For ten bucks, I had a virtual work of art to hunt with. 
People sometimes look at me funny when I show up with my sensational personalized creation, but I'm pretty secure about my detecting skills and femininity, and at this point in my life, I'm just beyond caring what other people think. What matters is what I think, and I think stickers are awesome. 
Please feel free to contact me if you've got any to trade or donate to my sticker wall.
Happy Hunting!