Got home a little while ago from the Outhouse Orchards hunt, in Croton Falls, NY, hosted by the Nor'easters Metal Detecting Club, out of Stamford, CT.
I hadn't planned on going to the hunt, as I've hunted there a few times in the past, but while drinking my morning coffee, I looked outside around 8:30 am and thought, what the heck–The hunt starts at 9am, It was a nice day. And the Orchard was a mere 10 miles away.
I arrived at the hunt with my usual eagerness and anticipation. I had found a beautiful heavy silver bracelet and some costume jewelry on previous hunts there, so even though I knew it was a place where you had to really work for your finds, it was worth a shot.
Now when I say the hunt was "hot", I don't mean it in the sense that it was a spectacular hunt with spectacular finds–I mean temperature wise. It was friggin' hot!!
Stupid me, in my rush to leave, I was not exactly dressed for a day in the hot sun. Seeing as it had been cool for the last few days, I had dressed in layers, with a long sleeve shirt and black pants. In my haste, I neglected to check the days weather. Dumb, dumb, and dumb. So I walked around sweating my butt off for 4 hours.
I was not alone in the heat crisis though, because even those dressed appropriately were seeking out the shade.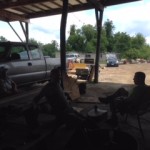 My hunting went like this: swing, dig a few targets, go rest under an apple tree and have a drink… Repeat.
I have never been so exhausted from detecting, nor so lazy. I did not even want to walk back to the car for more Gatorade.
But, I managed to trudge on, because I am obsessed 🙂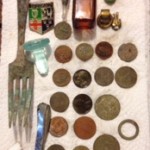 As for my finds, I didn't get anything great. A little bit of clad, a broken earring, a pin that said "Ireland", some whatchamacalits, and a fork by Monroe Silver, (but not silver), in the Vassar pattern, dating to about 1863.
I did, however, have a nice time chatting and socializing with other club members under the trees.
Even a less than successful day of hunting is still better than a good day doing most anything else!