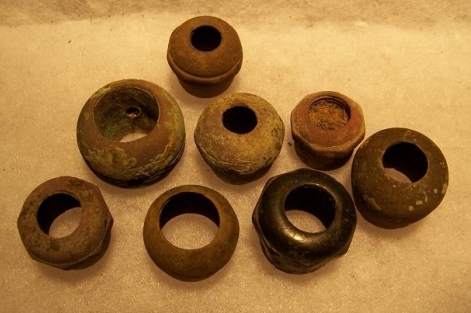 It seems something has gotten lost in the history shuffle.
What about the Ox?
A lot has been said about the role horses have played in our past and the building of our nation, but nothing much is ever said about Oxen.
We get excited about finding horse rings, horse rosette's, and sometimes even horse shoes, but no one seems to get excited about finding ox shoes or ox knobs.  As a matter of fact, it wasn't until recently that I even knew what an ox knob was, and I call them "unfortunate" because when I did find out what they were, I realized I had been tossing them in the garbage for years simply because I didn't know what they were.
The "unfortunate ox knob" I've discovered is an item often misidentified or thrown away by detectorists along with a pile of shotgun shells and nails.  Understandable, because they appear to be some random piece of plumbing hardware that when found, makes you wonder—what the heck is this doing in the middle of the nowhere?  Ahh… I should have known, since its in the middle of nowhere, but then again, I find pull tabs in some pretty remote areas that one would swear no one has ever set foot on.
Of course, as is my nature, when I dig up or discover some type of relic that intrigues me, I do a little bit of research on it.  I've written a little about oxen in the past because of my uncanny ability to locate every oxen shoe at every site I hunt.  Not something to brag about for sure, but as I said previously, those darn oxen shoe signals get me every time.
So for those of you who are wondering why there are so many oxen shoes and ox knobs out there, here is a little history of the majestic ox:
The early colonists knew that cattle could survive under conditions that would kill a horse, so they had no choice but to use oxen.
Oxen preferred cool weather, and having no fear of water they were worked in the wet soils and swamps of New England, providing the power necessary to bring people to newly settled areas.
Oxen worked at a slow pace, and had a patient manner, which made them less likely to break farm implements pulled through rocky hillside fields.  They were used for logging, moving stones, pulling stumps, plowing fields, making roads, hauling carts and sleds, and they even pulled covered bridges into place and moved large buildings.
Their importance continued through the 18th and 19th centuries, and long after much of America had given up using the ox, they continued to be used in New England because they were well suited for the needs of the New England farmers.
As for the unfortunate ox knob (also called horn knobs and ox balls), these items were usually made of brass, and were a decorative way to keep the oxen from instinctively sharpening their horns. The knobs were screwed onto the horns, and then the sharp tips were either filed down or cut off.  They also protected people and other animals from the oxens sharp horns.
So, with all the oxen used in settling this country, it's easy to see how these knobs are a frequent find among detectorist's, and now that I know what they are, I won't be throwing them away anymore.
Happy Hunting!