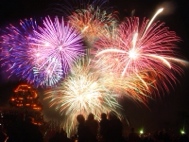 If you don't run a website, or blog, you may not be privy to the world of "stats", or statistics as they are more formally called.
Word Press, which I use for my blog, comes with  a built-in
program that tracks the "stats" of your blog, keeping track of blog traffic, i.e. number of visitors, unique IP's, links clicked on by visitors, pages viewed by visitors, etc…
Bloggers can also download plug-ins like Slim Stat or Google Analytics for stat tracking. Myself, I use Slim Stat, although I'm sure I do not use it properly, or to its full potential.
When I first started my blog, I found the information they offered very interesting, in that I could check on what visitors to my site were reading and tailor my future posts to what seemed to be popular.

As time went on though, the interest in the statistical analysis of my blog waned. My interest turned back to the main purpose of the blog, which is to write about metal detecting, and share what I thought was relevant.
What I didn't know, is that at the end of the year, Word Press sends out an email to their blogging masses which contains a report for each blogger with their personal yearly blog statistics. It has a catchy little title like "See what fireworks you created", or something similar to that–a nice little phrase that even when you try to ignore it, you succumb to the curiosity, and just have to have a look.
Temptation ruled, and I fell victim to the email. I just had to see the "fireworks". Seriously, it was that tempting.
Okay, so I'm rambling…. Let me just cut to the chase.
My number one, most popular, most read blog post for 2013 was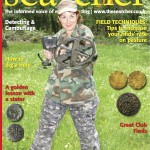 "I am Officially Scandalous". Not what I expected, but a big shout out to John Winter  & The Searcher Magazine for publishing my Mismatched Camouflage cover shot, and article "What is it About Detecting and Camouflage?"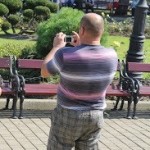 And although I hate to offer thanks to the thankless, I have to give credit where credit is due, and thank Warsaw Wally and his rage against the machines, for continuing to spread his negativity toward metal detecting, which resulted in the off the charts site traffic he was a directing my way. So Thank-You Wally… He likes me…he really likes me…!
The second most popular post, which I had thought would be number one (it was a close race), was "Dave Wise's Cellar Hole Redemption" . This story is a no brainer to be high in the rankings, 'cause in a word, it's just "cool".
The skunkee coming back and skunking us all in the end–that's a day I'll never forget, and if you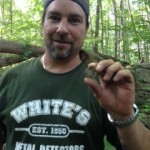 could have seen the look on Dave's face…priceless, with a little bit of awesome thrown in.
Now, if you don't know Dave Wise, he's as we say in the states "Good People". On the outside a self-proclaimed Heavy Metal Nut, but on a personal level, at least as I've gotten to know him, he's a real sweetheart, as well as a gentleman. Sorry if I ruined your rep here Dave, but I call 'em as I see 'em. Any guy who bends pricker branches out of my way so they don't whack me in the face, as I trudge non-daintily through the briars rates high on my list of "good people".
It was the comebacks of all comebacks, and I don't know what is ingrained in my mind more, the solemn skunked, I need ice cream look, or the bright-eyed look of redemption.  I think the latter.
All in all it was a good year. I began my blog with a lot of enthusiasm, and some minor anxiety over being able to write enough about metal detecting, however, when your passionate about something, there is just never enough to say about it.
Happy 2014 & Happy Hunting!
Edited with BlogPad Pro