A friend of mine related how he was hunting in the woods one day and turned around to see a mangy coyote staring him down.  He had not heard the animal because he had his headphones on.  He scared the coyote away, but it got him thinking about his safety in the field.
After that incident, he invested in a pair of Rattler headphones, and suggested to me, since I am a woman who often hunts alone, that I invest in a pair myself.
Granted, Coyotes are stealthy animals, and maybe he would not have heard the coyote anyway, but I'll take his word on it; and after my ex wanted to prove a point and snuck up on me while I was detecting (big fight ensued afterward), I heeded my friends advice and invested in the Rattlers.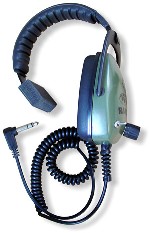 I have not been disappointed.  I'm on year three with these headphones, and they are tough as heck. I detect a lot, and I'm pretty rough on my equipment (if anyone has seen the state of my E-trac they will understand).
Rattler headphones are designed so that one of your ears is left uncovered to hear outside noise, while the other is covered with an earcup for hearing the signals from your machine. It's a great concept for safety, regardless of gender.
The other features I love about the Rattlers is the volume control, and on/off switch right on the earcup.  So when someone yells or whistles for my attention, not only can I hear them, but I can just switch off the headphone to have a conversation with them, without having to remove them.
You can purchase Rattlers for $95.00 at Detector Pro (www.detectorpro.com).  They have a great warrantee, though I've never had to use it, and the owner Gary Storm is also a really nice guy.