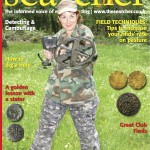 For those of you who aren't subscribers to The Searcher magazine, first of all, why not?  It's a great read.  Some folks in the US may think oh it's a UK magazine, and yes it's published in the UK, but the articles and reviews are universal and of interest to detectorists everywhere.
Second, the humorous cover photo (of me), which has drawn so much attention–especially from Warsaw Wally (he loves me, he loves me not…), did have a purpose, and its intent was to go along with my article What is it With Detecting and Camouflage? that I understandably wouldn't post until the magazine had run its full course of readership for the month.
Now that my ethical obligations are met, please feel free to peruse at your leisure the article that accompanied the cover photo that had "Warsaw Wally" in a rage against our machines.  Maybe Wally will finally read it too?  And for the record Mr. Barford, the background in the other photos are from a farm field in Long Island, NY–totally legal to hunt in this country, and taken at one of the Artifact Detecting Team hunts, sponsored by Minelab, and held specifically to benefit the Southampton Historical Museum click here to see how detectorist's helped out the historical society.