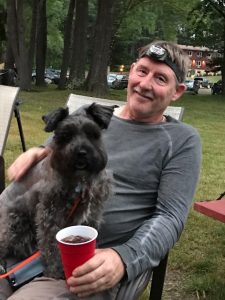 Detectorists from all over the east coast descended on the Catskills, June 16th to 18th  to attend Blackthorne Resorts Lost Treasure Weekend, in East Durham, NY.  This hunt has been an annual event in the metal detecting community for years—how many years, I'm not sure, but I've been hearing about it and wanting to attend since I started this hobby, and this year I finally got the chance.
My pre-event impression was a cautious one. Since I knew a lot of people who had been to this event in the past, I asked around about it a bit, and was warned about the resorts food, and lack of guest communication skills.
I found this out first hand while trying to get information about the hunt and confirmation of my booking.  It was a frustrating effort, so I advise all those who wish to attend this hunt in the future to employ the old fashioned telephone call method.  Calling will confirm your reservation, but make sure to write everything down, because you will probably need that information when you check out.  And don't expect the usual itemized bill when you depart, write it all down–trust me on that.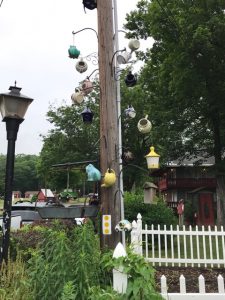 Once you get through all that and arrive at the Blackthorne though, you will be pleasantly surprised. The resort is in a word, "Whimsical".  It has that old world charm that you might remember or expect from a resort in the Catskills.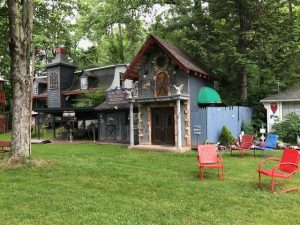 The charm comes from the details, which you will notice immediately.  All around you, wherever you go there is attention to detail.  From the teapots hanging on poles, to the duck pond with a mini working mill wheel, and colorful retro beach chairs by the pool, you'll be sure to notice something new each day.
My room was nice.  It was clean, with air conditioning, a huge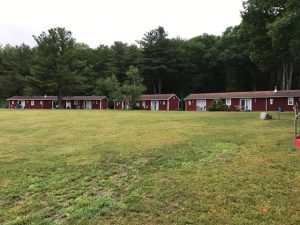 bathroom, sliders facing the hunt field, and a pleasant decor.  I had been told by previous attendees to make sure to  upgrade to a plan A room, which I did, and I did not see a plan B or C room, so I cannot make a comparison, but my accommodations were just fine.  Compared to some of the other places I've stayed in the Catskills, this was a total upgrade, with no "old motel creepiness" factor.
The Blackthorne is also a pet friendly place, so I brought my dog "Abby" along.  The pet fee was only $5.00 per day, which I thought was reasonable, and Abby thought I was just the best Mom for taking her to see her favorite thing in the world… people.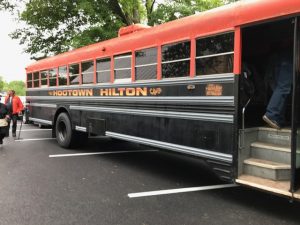 I arrived, checked in, got the dog settled and gathered my gear to board the bus, which was to take us around the area to various natural hunt sites for the day.  When I got to the bus, the driver informed me the bus was full—seriously?  I paid extra money, and reserved early, to make sure I had a seat on the bus.  I thought that pretty much sucked, but there were 7 or 8 cars following the bus, so I carpooled it with Kevin and Joe from the Nor'easter's club.
The first site we hit was an old house, and everyone was out of their vehicles, donning their rain gear and ponchos as it had started raining on the way there.  It was a bit confusing because all those that were on the bus were privy to the details of where the hunt boundaries were, and were off hunting already.  The rest of us were on our own.  I asked a few folks if they knew where we were supposed to hunt, and they didn't know either, so I just stayed near by, since I wasn't even sure who was in charge yet to ask.
I found an old button, and saw some folks hunting in the wooded back yard area, so I went in that direction.  I don't think I was there 15 minutes when it suddenly grew quiet.  I looked around and saw people walking back toward the road, so I quickly went back to the car, and yup, they were packing up to leave already.  We couldn't have been there more than a half hour, and I was a little confused, but thought, whatever.
We went to the next site, and I got my gear on more quickly, thinking a half hour was all we were probably going to get.  It was an old farm house with a small yard, and folks were running around hurriedly digging signals.  I was on my third hole, when I suddenly heard someone yell "Lets go".  I looked around, and saw Jeff from my club, with a look of disbelief, questioning the person who had said it.  Jeff had just found a large cent—who wants to leave immediately after finding a large cent, or any coin, or even 7 minutes after starting to hunt?
People were starting to get annoyed.  No one could understand what the heck was going on,  but we continued on, following the bus to the next site.
We ended up at an old house from the 1700's, with a good size yard and field area to hunt.  The owner gave us the history of the house, then we were off.  No one knew when they would pull the plug and tell us we had to go, so it was like a mad race to see if you could find something.  I pulled out a few wheaties, and a neat black marble, and then made my way back to the parking area because I didn't want to be left behind when whoever was in charge decided it was time to leave.
Woody from the Pennsylvania club pulled out a nice reale, and it was like the most perfect reale I had ever seen.  I was so happy for him, and everyone was checking it out and taking photos.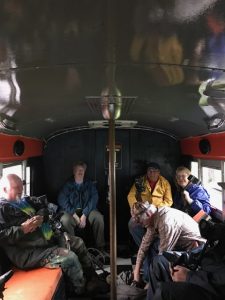 I also checked out the bus.  I was told there was a stripper pole inside it, and I was kind of thinking, no way, but I took a look anyway, and yup, there was a strippers pole inside the bus and half the seats were removed around the pole/strip area.  The mystery of why there were no more seats left on the bus was solved—You just can't make this stuff up.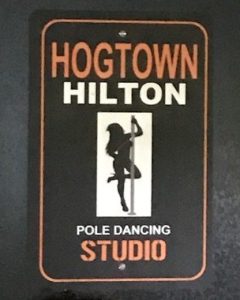 We were told that bus was the only bus available for rental on that particular day, so thats the one we got.  Now maybe I'm being too critical, but I don't really think so, by pointing out the obvious, which is, that if I were putting on a hunt, and needed a bus for a certain day, I would reserve that bus far in advance to make sure an adequate one was available—just sayin'.
Anyway, we then moved on to a ball field, which I assumed we were going to hunt but was told, no, this is where we are having lunch.  I didn't care about lunch, but then we were told that lunch wasn't ready yet and we were going to hunt the field.  I got all rain geared up, went out and dug my first target, then someone came over and said lunch was being served.  OMG–I wasn't alone in voicing my frustration of this bus tour/hunt, while I removed my gear once again, and then made my way to the pavilion.
I expected hotdogs and hamburgers, but instead they served us Chicken Cordon Bleu, rolls, gravy, potatoes, salad, etc…. It was catered by the motel, and delicious.  I was surprised with this sudden great meal, under a pavilion, at a ball field in the rain, and still confused by this whole hunt scenario.
After we ate, they quickly herded us back to the vehicles for our next site, which was a motel.  After I geared up again, I found the "leader" of this caravan and asked him where exactly we could hunt.  His response was "Just hunt, if you go someplace you're not supposed to, I'll let you know".  I was like, um, okay thanks, but in my mind, I thought "What an a**hole, this hunt is ridiculous", then I wandered around aimlessly swinging my machine, having lost interest in being a participant anymore.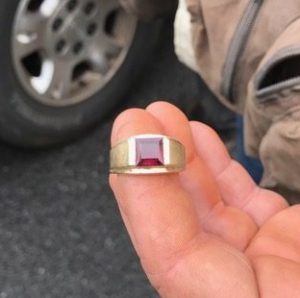 As predicted, 20 minutes later it was back to the vehicles, and on to another site.  I just went with the flow, because what else could I do?  When it was time to go, Kevin (our driver), was no where to be found.  A brief search ensued, and when he appeared, he showed us the reason for his tardiness—he had been busy digging up a gold ring!  Way to go Kevin!  At least someone had time to find something.
The next site was the remains of an old motel.  They gave us a good 40 minutes there, and I did manage to find a watch, a buckle, a key and some clad.  It's hard to enjoy yourself though when you don't know how long you will have to hunt, and are afraid to turn your back to dig a signal, because when you turn back around everyone may have disappeared, or are waiting on you.
After that it was over. Everyone went back to the motel except for about 8 of us who went off on our own and hunted a permission for an hour or so, until it was time to head back for dinner.
Dinner was great. Whoever said the food wasn't very good at Blackthorne, I feel was mistaken.  All the food we had all weekend was great, and there was plenty of it.
After dinner it was time for the Moonlight Madness seeded hunt, and everyone donned their headlamps to search the field for tokens.  It was kind of fun running around in the dark, and I ended up with 10 tokens for my efforts.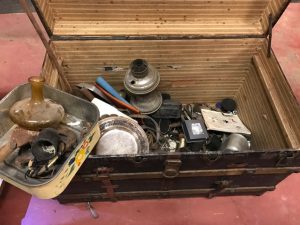 The tokens were cashed in for prizes, which, for some folks were great, but for me, they were "meh".  Most of the prizes were coins, which I have absolutely no interest in unless they are coins I've dug myself.  They had a trunk of junk, which was just that, and I really didn't need anymore junk, so I settled on a hopefully useful claw like item, that I supposed was an old garden tool?
The rest of the weekend was more of the same.  A lot of food and seeded hunts, more tokens, and more coin and junk prizes.  A group of us went off on our own during the day and sought out permissions, but except for Rich W. from the YTC club finding two coppers at one of them, they didn't really produce much else.
Despite my frustration, and dislike of seeded hunts, when the weekend was over, I couldn't really say I had a bad time, nor can I say I wouldn't go again next year.  I might pass on paying the extra fee for the now infamous natural hunt bus tour, but it was still metal detecting, and the best part of the weekend, and most of  the reason I was there anyway, was the people.
There are so many folks I've met through the years in this hobby.  Some of these people live quite a distance away, and the only time we really get to hang out and detect together is at these events.  There is always a lot of laughter, reminiscing and an all around good time.  This hunt was no exception.  It was the people who made it.  The evenings hanging out, having a few drinks, laughing at most everything, especially inside jokes (i.e. Tom Foolery), which I have to include here, as it was one of this particular hunts inside jokes that a lot of people reading this will understand.
There is also the opportunity to meet new people, and make new memories and friends, and those new acquaintances will be the folks you look forward to seeing at the next hunt.
Metal detecting is just one of those hobbies that brings people together.  I can't quite put my finger on one thing about it exactly, as there are so many great people and things about the hobby.  I mean even if its been a few years since you've seen someone you hunted with or attended an event with, when you see them again, its like no time has passed, and you know that whether its a sucky hunt or not, you're going to have a great time anyway.  I like to describe that feeling as camaraderie, but its just so much more than that…
More photos below–Happy Hunting!