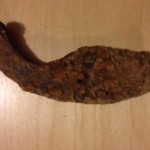 Those of you who know me, or are regular readers of my blog, are aware of my fondness for Oxen Shoes.
This fondness was not derived out of a genetic predisposition toward the objects, it was born out of necessity, due to  my uncanny ability to locate every oxen shoe within a 300 foot radius at every site I hunt (and yes, my parents are very proud).
So, you might not find it surprising that while working in the yard with my guy yesterday, clearing an area for our vegetable garden,  I discovered another of these beautiful pieces of blacksmithing art.
My guy said, "Why don't you go get your machine and detect this garden area before we plant"?  Naturally I made haste to the basement, grabbed my "best friend", and began my search.  I said out loud "Won't it be so funny if I find a friggin' oxen shoe in the yard"?, and wouldn't you know, two targets later, I'm attacking this "iffy" signal,  and…yup–it was an oxen shoe.  Go figure.
I couldn't believe it, an oxen shoe in my own yard–the highlight of my detecting career.  My detecting skills have obviously reached the level of awesome.
Since I cannot turn off my oxen shoe radar, I am now thinking of changing the name of my blog to "OxenShoeDiva.com".  It kinda has a ring to it, and I'm going to quickly reserve the domain name before someone else with my similar exceptional skills takes it.
Happy Hunting!